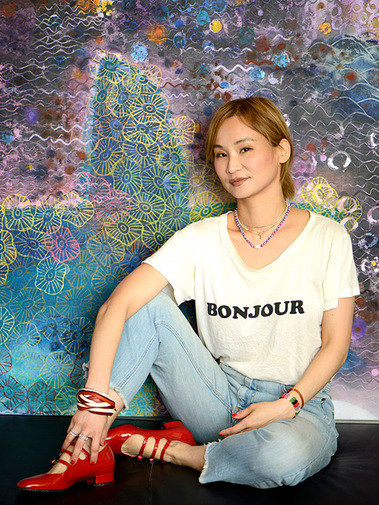 Kiwha Lee (b. Seoul, Korea) is a painter based in New York and Singapore asking questions about what Painting is in the 21st century by approaching abstraction in a way that subverts the history and hierarchy of painting. She decentralizes the components that make up a painting by using patterns to create spatial depth, not European perspectival conventions or modeling. Shedding Western notions of an "inside" or "outside", she proposes an alternative to easel painting's "painting as window" via the mediation of the jali—an ornamental, architectural, latticed screen that functioned as "a window" for centuries. Concentrated light "pierces through from the back of the painting" and affects the space of the viewer, in solidarity with the viewer class. Reinventing ancient Asian printmaking processes from craft traditions with oil paint, she converses with but also challenges the hegemony of male, European modernists like Matisse who drew from the visual vocabulary of the imaginary Orient.
Nominated for the Sovereign Asian Art Prize in 2018, she has exhibited at Fergus McCaffrey, Thierry Goldberg, Ortega y Gasset Projects, Deanna Evans Projects, Far x Wide, Leroy Neiman Gallery, 205 Hudson Gallery, Collar Works and Chan+Hori Gallery among others. Her work has been featured in publications like New American Paintings, ArtMaze Magazine, Vulture, The Business Times, Asian Art News, Harper's BAZAAR. Lee was named one of three emerging female artists in Singapore by Asian Art News Magazine in 2019 and was a finalist for the Harper's Bazaar Art Prize 2017. Art residencies/fellowships include Vermont Studio Center, Chautauqua Institution (NY) and the NPE Art Residency (Singapore). Lee attended Columbia University's School of Art for advanced painting and has completed her MFA (Painting) from Hunter College in spring of 2022.
Lee first studied at the University of New South Wales College of Fine Arts then the University of Technology Sydney in Australia (B. Design in Visual Communication (Hons). Drawing from lived global experience and work re-imagining and changing the way people think and live, Lee channels the empathy and knowledge of a culture miner—keenly interested in philosophy, social anthropology and semiotics to explore the shapes of history, shared space and thresholds. Influenced by travel and a natural inclination to see beyond arbitrary boundaries, Lee founded the influential art space, THE FLAT, from 2013-2018 in Singapore where high/low hierarchies between fine art and craft were purposely removed. The daughter of an urban planner academic and a novelist, Lee was born in Seoul and raised on four continents, namely in the cities of New York, Sydney, Seoul, Boston and London.
Lee's work can be viewed in a two-person show at Untitled Art Fair, Miami Beach this December with Chart Gallery, the inaugural group show in San Francisco with COL Gallery opening this September and with Vardan Gallery in Los Angles in late November . Her first New York solo show will open in January of 2024 with Chart in Tribeca, NY. Her paintings were selected for New American Paintings MFA Annual 2023 issue #165 and ArtMaze Magazine's Double Volume Edition 32-33 in 2023.